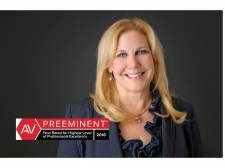 With the nation's meteorologists expecting frigid temperatures this winter, we need to be ready for the unexpected.
BIRMINGHAM, Mich., December 5, 2017 (Newswire.com) - If we spent as much time outfitting our automobiles as our wardrobe, the streets and highways could be far safer for us - and the driving population at large, says Dani Liblang, Michigan's leading lemon law attorney and founder of The Liblang Law Firm in Birmingham. With the nation's meteorologists expecting frigid temperatures this winter, we need to be ready for the unexpected.
Here are five things you can do to be safer on snowy, icy streets:
With the nation's meteorologists expecting frigid temperatures this winter, we need to be ready for the unexpected and stay safe on the road.

Dani Liblang, Founder The Liblang Law Firm P.C.
1. Get snow tires. All season tires - which most vehicles come equipped with - are anything but a fix-all for fierce conditions. According to a recent survey commissioned by Michelin related to winter driving myths and behaviors, 3 in 5 drivers (61 percent) say they have lost control of their car in winter weather. Most tires labor to grab a snowy, icy surface. The Federal Highway Administration claims 24 percent of all vehicle crashes are weather-related.
Newer snow tires have cross sipes or deep grooves, block edges and micropumps for ultimate traction. A driver still needs caution, but the tires grip the road and hold steady throughout the drive around town. An all-season tire stiffens and becomes less agile in extreme cold, whereas a snow tire, like Michelin or Bridgestone's Blizzak, offers a combination of tread patterns to reduce snow buildup and sustain traction. Keep tire pressure at optimum levels listed in your owner's manual.
2. Check fluid levels. Make sure your windshield wiper fluid is filled to capacity and your wipers are up to the task. You'll need all the visibility you can get in snow and rain. While you are at it, keep a half a tank of gas to get you through detours and gridlock.
3. Pack a snack to carry in your purse or briefcase. You could get caught in the mother of all traffic congestion on the way to a luncheon meeting. It helps to have some instant energy in a to-go box. This could include snack food, trail mix, water and beef jerky.
4. Keep some tools in the car. As darkness and cold descend on us all, it is handy to have a flashlight - or miner's light that fits like a Minion on your head - a windshield scraper, shovel, pocket knife and cell phone charger.
5. Spare wardrobe. Many women have a gym bag at the ready, but it is just as important to have some extra warm accessories for a journey because a cold front could come out of nowhere. Pack a bag with extra warm gloves, scarf, boots and a hat with ear flaps. Add a blanket or sleeping bag for long trips.
Plan your route by checking for road closures, construction and weather warnings, says Liblang. An excellent website is https://www.fhwa.dot.gov/trafficinfo/. Make perimeter checks of your car part of your daily routine and make sure your tires are in tip-top shape throughout the winter so you can meet the seasons with confidence. You'll never miss a job or a meeting because the weather looked ominous. You are stronger!
Dani K. Liblang is the founder of The Liblang Law Firm, P.C., a consumer and lemon law firm serving clients from throughout Michigan and the Detroit metropolitan area. The firm continues to expand the horizons of lemon law, warranty compliance and accountability in representing a variety of plaintiff complaints within the general business, commercial and industrial sectors.
The Liblang Law Firm, P.C., continues to represent plaintiffs in personal injury, product liability, finance fraud and toxic tort, as well as a variety of consumer and employment law issues. Additionally, the firm is extremely active, well versed and certified in Alternative Dispute Resolution (ADR), which allows clients to pursue non-traditional litigation methods such as arbitration, mediation, mini-trials and private judging.
The firm is located at 346 Park Street, Suite 200 in Birmingham, Michigan. Visit their website at http://www.lemonlawlawyers.com/about.html.
For more information, contact Melinda Kollins, 248 722-5408.
Source: The Liblang Law Firm, P.C.
Share: