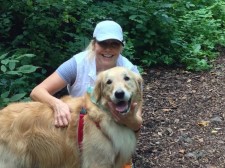 Birmingham, MI, October 11, 2016 (Newswire.com) - "October is National Dog Adoption Month. It is the perfect time to support your favorite animal shelter by adopting, volunteering or donating resources," states Dani Liblang, consumer attorney and founder of The Liblang Law Firm in Birmingham. Liblang advocates passionately for animal welfare and encourages others to adopt from a shelter first, if they're thinking about getting a dog.
Everyone who knows Dani Liblang, knows she has a love affair with dogs, especially her own dog. When you enter the lobby of The Liblang Law Firm, you are greeted by Bart, her beautiful and well-mannered golden retriever. Bart is the official greeter at The Liblang Law Firm and instantly makes everyone at home with his loving and welcoming presence.
October is National Dog Adoption Month. It is the perfect time to support your favorite animal shelter by adopting, volunteering or donating resources.

Dani Liblang, Founder The Liblang Law Firm P.C.
However, not every dog is as loved and well-cared for as Bart. Unfortunately, too many dogs are without homes and someone to care for them. Each year millions of dogs are abandoned, far more than can be absorbed by shelters.
If you love animals, but are unable to adopt, consider volunteering at your area shelter. Animal shelters need the support of their communities and rely on volunteers. There are many ways you can help.
Give your talents
You might be an ace at photography. You can create adorable pictures for Instagram and Facebook that make people want to adopt that Chihuahua immediately. You might write the sizzling profiles that make Rover seem robust.
Give your time
Get some exercise and fresh air by taking dogs on walks around the shelter and through the surrounding neighborhoods. Parents teach their children compassion by feeding and playing gently with the animals.
Give your gently used stuff
Shelters always need pet sweaters, food bowls, grooming tools, food, pet beds, leashes and collars. Save your newspapers or cleaning supplies.
Give cash
Philanthropy is always something to bark about. There is an on-going need for food, medical supplies, grooming tools and cleaning supplies. Anything you can provide will be warmly received. You'll get licks from your favorite shelter pooch.
Give a place in your home and heart
Shelters love the families that come with big hearts ready to adopt a dog into their family. Or you can help by choosing to be foster parent. You can help socialize difficult dogs until they become adoptable, or provide temporary shelter if they are over-crowded.
Where can you learn more? Many pet stores have animal rescue days. Petfinder.com lists many available animals and shelters exist all over southeast Michigan, all looking for help in these many wonderful ways.
Take it from Bart, "Your best days are ahead when you have a dog to help you enjoy them."
About The Liblang Law Firm P.C.
Dani K. Liblang is the founder of The Liblang Law Firm, PC, consumer and lemon law firm serving clients from throughout Michigan and the Detroit metropolitan area. She was recently named to the Top 100 Trial Lawyers of Michigan.
The Liblang Law Firm continues to represent plaintiffs in personal injury, product liability, finance fraud, and toxic tort, as well as a variety of consumer and employment law issues. Additionally, the firm is extremely active, well versed and certified in Alternative Dispute Resolution (ADR), which allows clients to pursue non-traditional litigation methods such as arbitration, mediation, mini-trials and private judging.
The firm is located at 346 Park Street, Suite 200 in Birmingham, MI. Visit their website at: http://www.lemonlawlawyers.com/about.html
Contact: Melinda Curtis (248) 722-5408 or melinda.kollins@gmail.com
Source: The Liblang Law Firm P.C.
Share: